Senior Citizens Lunch – 20th February 2013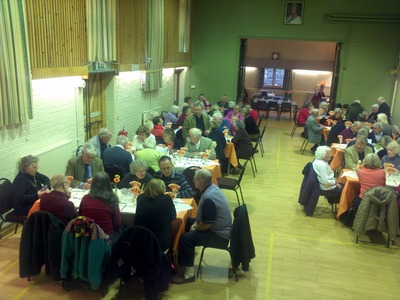 74 people came to the Memorial Hall to enjoy a wonderful meal and to chat with friends and neighbours. We also delivered 5 meals to the homes of those who were unable to attend.
It was good to see new faces and two people who attended were over 90! Our guests enjoyed a meal of either chicken and leek pie or haddock in a creamy watercress sauce. The dessert of pavlova or sticky toffee pudding rounded off the meal which was enjoyed by all.
After lunch a quiz entertained our guests and tea/coffee was served. Our Community Police Officer came to give advice on how to keep safe in the home.
Raffle prizes were handed out and the afternoon ended at 4pm.
The Friends of Tewin Committee would like to give a huge "THANK YOU" to everyone who gave their time so readily to make this a special day for our Senior Citizens.
There are more pictures in our album of the event.
Dancing round the Maypole – 3rd May 2013
On 3rd May we were very lucky and had a beautiful sunny day for this annual event. The children from Tewin Cowper School delighted us with their intricate dancing; they must have practised very hard! The event was enjoyed by all who came to watch and relax in the sunshine.
Classic Car & Craft Show – 18th August 2013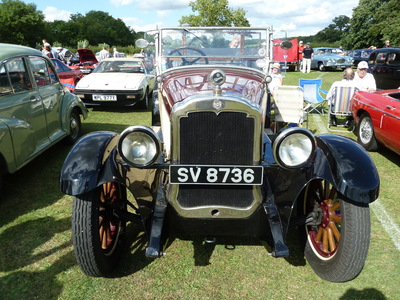 This annual event has become the biggest in our calendar and involves much planning and organisation. The good weather on the day encouraged hundreds of people to come along and enjoy the classic cars, seeing what the craft stalls had to offer, sampling the refreshments on sale and enjoy watching the Lindy Hop Dancers!
The use of land at the back of Upper Green for parking cars and the one-way system certainly helped things to run smoothly. The people of Tewin (and there were many of you) who volunteered to help on the day, showed all our visitors what a wonderful village this is to live in. We all worked very hard and put on a really good show!
Thank you to everyone who helped to make the Classic Car and Craft Show such a success and also thank you if you turned out to support us. We couldn't do it without you!
Scarecrow Weekend – 14th/15th September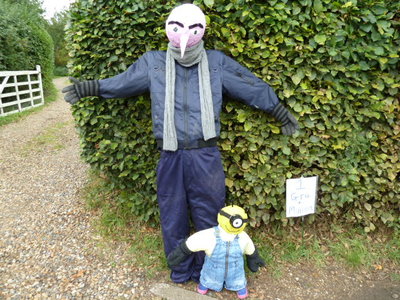 Our Scarecrow Weekend was enjoyed by lots of residents plus the many visitors who braved the cold weather to come and look at the wonderful creations! We had a great variety of scarecrows, people had really let their imaginations run wild and created some amazing displays!
By Sunday lunch-time the wind had strengthened and some of the crows looked a bit worse for wear but they all survived till the end of the day.
We owe a big thank you to all the families who participated, we hope you enjoyed making your crow; they brought a lot of fun to the village that weekend.
The winners, who won WH Smiths Vouchers, were:-
1st PRIZE: ENTRY NO. 1 "GRU MINION"
2nd PRIZE: ENTRY NO. 16 "SCARYCRO
3rd PRIZE: ENTRY NO. 14 "HONEY MONSTER"
Carols on the Green – 18th December
Unfortunately the weather wasn't kind to us so the event was moved from Lower Green to Tewin Cowper School. Luckily, Father Christmas found us in the school hall and the children were delighted to see him! The hall was packed with families and we are grateful to everyone who turned out on such a bad night.
Mince pies, mulled wine and hot chocolate were on sale and members of St Peter's Church organised a raffle which raised £200; the proceeds were donated to the charity "Shelter".
A brass band lead the carol singing which rounded off the evening.
Friends of Tewin would like to thank Mrs Simpson, Headteacher of Tewin Cowper School for very kindly allowing us to hold the event in the school hall.