The Church of St. Peter has an ancient church history rooted in the central tradition of the Church of England. As a village church we embrace all traditions coming together to worship God with a mixture of traditional and modern services catering to all age groups.
Find us at Churchfield Road Tewin, Welwyn, AL6 0JN.
There is a sign post at the end of the Church drive to the Church.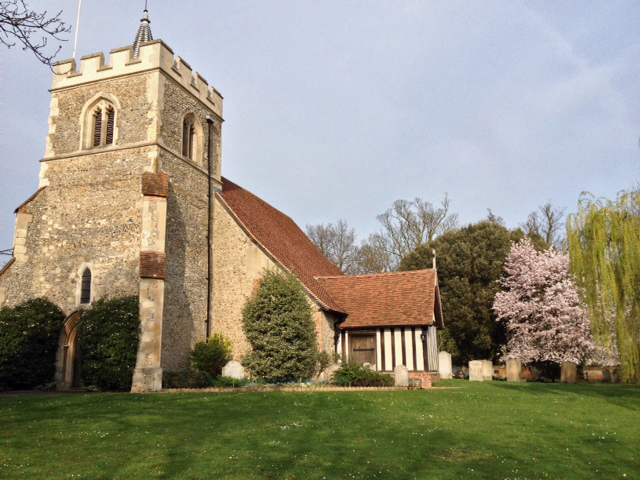 The history of the church begins with the coming of the Saxons in 449. They called themselves "Sons of Tew" and worshipped the god Tew. The site of their shrine became that of the later Christians church when they became Christians in or about AD 604 shortly after the coming of St Augustine. It is thought that the North Wall of the church was part of the North Wall of this earlier Saxon Church.
After the Norman conquest the Normans restored the ruined church in about 1086 AD The Norman parts (Nave and Chancel) were built by Peter de Valoignes to whom William the Conqueror had granted the Castle of Hertford, its estates and the manor of Tewin. It was at this time that the church was dedicated to St Peter.
The lancet windows of the Chancel and South Aisle as well as the arches dividing the Nave from the South Aisle were built in the early English period (about 1266).
In the Perpendicular period (1377-1547) many changes were made, including the east windows of the Chancel and Aisle, the South Porch with its inner door and the Tower. There were restorations of the church in 1864 and more notably in 1903. This final restoration was carried out at the expense of Lord Cowper whose memorial is situated on the South Wall of the Chancel. A new Vestry was built, the entire church was fitted with new oak pews, pulpit and reading desk, together with the candelabras.
Ministry Team
Team Vicar

Revd. Susannah Underwood

The Rectory, Brookbridge Lane, Datchworth, SG3 6SU

tel: 01438 817183

e-mail: team.vicar@welwyn.org.uk

Team Rector

Revd. Dr. David Munchin

1 Ottway Walk, Welwyn, AL6 9AS

tel: 01438 714150

e-mail: rector@welwyn.org.uk

Churchwardens

Mrs Linda Gilley

30 Godfries Close, Tewin, AL6 0LQ

tel: 01438 717385

Mr Nick Whiting

5 Churchfield Road, Tewin, AL6 0JW

tel: 01438 717230

PCC Secretary

Mrs Amanda Glew

22 Firs Walk, Tewin, AL6 0NZ

tel: 01438 798047

PCC Treasurer

Mrs Diana Bradley

25 Firs Walk, Tewin, Herts, AL6 0NY

tel: 01438 798478

PCC Stewardship Officer

Mr Graham Spring

2b Hertford Road, Tewin, AL6 0JY

tel: 01438 416071

PCC Safeguarding Officer

Mrs Pauline Brown

10a Harmer Green Lane, Digswell, AL6 0AX

tel: 01438 717580
The Millenium Kneelers
In the summer of 2019 a short film about the making of the church kneelers to celebrate the Millennium was made at St Peter's Church. The film can be viewed on BBC IPlayer. It's a heart-warming watch.