Two of the amazing cars from the show
TEWIN CLASSIC CAR & CRAFT SHOW - 21st AUGUST 2022
Friends of Tewin is delighted to launch the entry for this year's Tewin Classic Car & Craft Show. The show will take place on Sunday, 21st August. If you would like an Entry Form for either a Classic car or bike, please email tewincarshow@hotmail.co.uk and we will send you full details about the arrangements for the show.
As in previous years, we have a cut-off date for entry applications. All entries must be received by Monday, 8th August 2022. Any entries received after that date will not be processed so we urge you to pre-book in good time.
SHOW DAY - all pre-booked Classic Cars must arrive by 12 noon otherwise we cannot guarantee a place after that time. Any Classic car arriving before 12 noon without a ticket will not, initially, be given access onto the Show Ground as priority will be given to pre booked cars until that time. These cars will be held in a Classic Car section of the public car park, which is marshalled all the time. After 12 noon, if space allows, these cars will be offered the opportunity to move onto the Show Ground, a system that has worked very successfully over the last few years.
If you want full details about the show, please send an email to: tewincarshow@hotmail.co.uk
We are very pleased to welcome back as our Sponsors, Aston Martin and McLaren Hatfield.
We thank you so much for your continued support.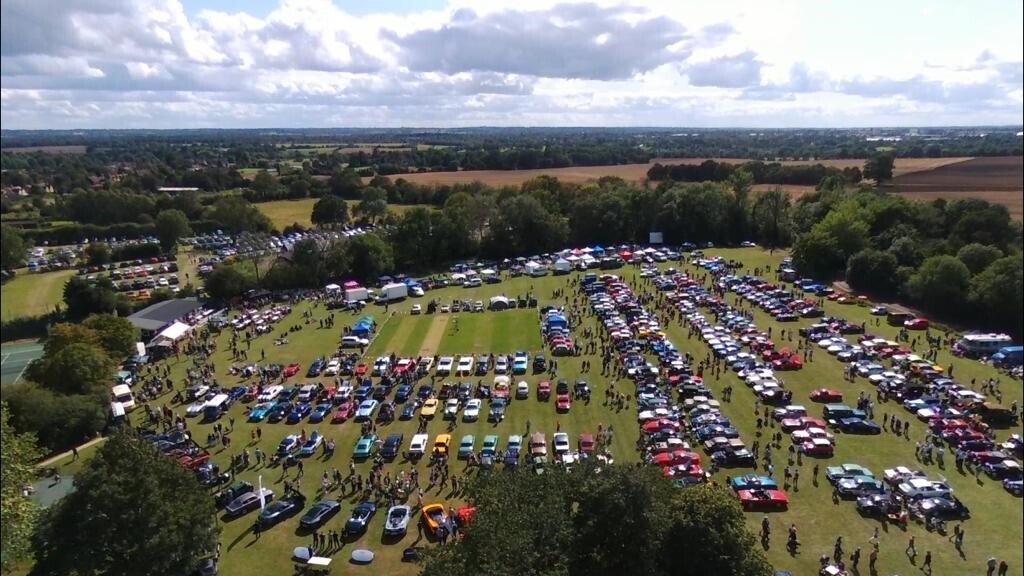 The above image was taken from a Drone during the 2019 show. (Thanks to Ben Hill)
For more photographs of some of the cars click here
For directions to the showground,

(see map).
If you would like any information, please contact us on

:-

tewincarshow@hotmail.co.uk
CRAFT STALLS
Bookings for the craft stalls are now OPEN. If you are interested in having a stall, email Linda Crawford at: lindarichard@talktalk.net
for more information and a Booking Form.